First, designate one person to take charge of the move. He or she can then assess the needs of the company and prepare a list of priorities, as well as delegate responsibility for the various different aspects of the move. Keeping track of the steps taken in a written list will help ensure that no details are forgotten or left to the last minute. It also can make moving a lot easier when you hire full service moving companies as they take care of all aspects of your move for you.
File cabinets do not need to be emptied, just lock them and tape the drawers shut too, as an added precaution. Do empty your desks of all items before they are moved, to prevent any sharp objects from falling out, getting stuck and becoming a hazard, or jamming the drawers.
With regard to business correspondence, make sure that all clients, vendors and other offices are notified well in advance of the planned move and that all mail is forwarded; renew the forward mail option if it expires so that every piece of mail can reach you. Also be sure to get your office listing with the new address in any and all directories that you use. Letterhead, envelopes, fax cover sheets and business cards will need to be changed as well.
No matter if you need household movers or commercial moving services you always want to compare moving companies to make sure that you are getting the best rate.
Telephones, internet service and all of the other communication services that your company needs should be in place before the actual move. Record a new voice mail greeting which mentions that the office has a new location and give the address. Don't forget to change the company web site address and be sure the map corresponds to the new address, too.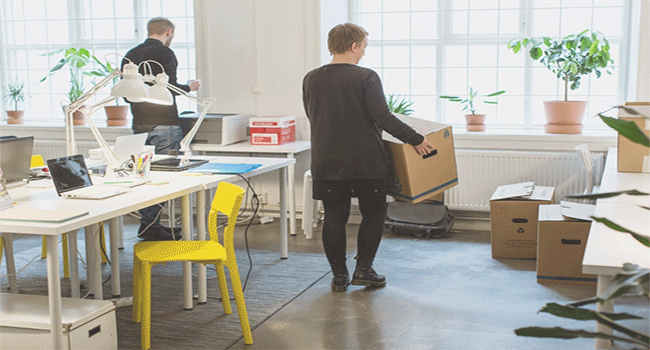 The banks your office uses must be notified so that checks can be printed with the new address.
New signage might be required. Check out the size, shape, type and number of signs that are going to be displayed and arrange for them to be delivered to the new location.
Arrange for a security team to pack and transfer any sensitive documents and other information, if necessary.
Finally, there might be some company downtime between emptying the old office and getting completely set up in the new place. Try to prepare for this by working offline and doing any tasks that do not require that you be in the office to complete.