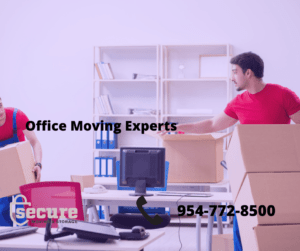 At Secure Office Movers & Storage, We have a tendency to perceive that industrial moves need effective structure skills and professional handling skills once addressing technical instrumentation. Our knowledgeable moving specialists square measure trained in designing, management, and packing to ensure that workers from any corporation will with efficiency and quickly move to their destination hassle-free.  All industrial moves square measure supervised by a project manager that guarantee minimum period, counsel whether or not or not third-party help is required, and make a custom timeline that matches your moving wants.
Tasks completed by moving specialists:
Use trendy instrumentation to handle serious furniture/packages
Disassemble and assemble work stations and instrumentation
Pad wrap/bubble wrap all piece of furniture to make sure a secure transit
Professional packing, unpacking, and labeling (when requested)
Expert handling of all workplace electronics/ machinery
Perform in a very fast however cautious matter for a quick and stress-free move
Secure Office Movers & Storage additionally provides packaging material that may be purchased on-line or in the flesh. Our project managers assist customers in selecting the acceptable and helpful provides which will shield all belongings and facilitate save time and basically, money.
The hourly rate includes an expert moving crew of 2 to 3 movers Associate in Nursingd an 18-26 foot van that encompasses all piece of furniture blankets, dollies, and any special instrumentation required to help you along with your move. The asking time begins once our moving crew arrives at your pickup destination and ends once the truck is empty and every one piece of furniture is reassembled. every move is charged a minimum of 2 hours of labor and is charged unit of time once the minimum is reached.
Travel time (flat rate fee), the number of your time it takes for our movers to succeed in your workplace and back is more to the whole charge on completion of the move. Driving time, the time it takes for the movers to drive from your current residence to your new workplace, isn't enclosed within the period.
Valuation of Coverage:
All industrial relocation allotted to Secure Office Movers & Storage square measure coated by free liability coverage. Secure Office Movers & Storage is merely to blame for $0.60 per pound per article up to the utmost valuation choice elect by a sales representative and also the client. we have a tendency to extremely suggest that each one customers purchase from a 3rd party the total worth Protection Insurance for the whole coverage of your belongings and physical science. Valuation of coverage isn't insurance for your possessions.
Remember, being ready previous time will cut back the whole time of the move and can assist you save money!
Fill out a FREE ESTIMATE for your company move now!