Relocation, whether it is to a local area or completely across the country, can be a very stressful time even for the most organized family. There are many items to remember and tasks to complete that many individuals forget the simplest of things. For this reason, Secure Office Movers composed a list of ten most forgotten items that every family must remember to take care of in order to ensure a smooth and easy move. Please feel free to print this list for your convenience.
Records & Documents Items
Remember to obtain copies of important documents such as medical records, dental records, vaccine information, school transcripts, reference letters, as well as any veterinary records. Often, a notarized letter will be required to receive official documentation (it is best to contact the American Medical Records Association to inquire about your new state's requirements). You may also need to discuss transferring current prescriptions to a drugstore near you in your new town with your health practitioner.
Hidden Valuables Items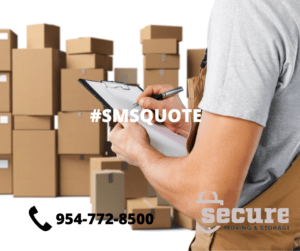 If you have hidden any valuables around your home, such as in a safe box, do not forget to collect them. Make sure to carry valuables such as jewelry and currency with you during your move.
Phone Numbers
Pack your current phone book and make sure to write down any new contact numbers, such as the new owners of your home or your new family physician. You may think it will be of no use to you, but you may endure some charges for directory assistance to contact some old friends or tie up loose ends. Also, in the event that your move does endure some difficulties, it will be easier for you to contact any emergency numbers if you have them at hand.
Dry Cleaning
Dry Cleaning, Tailors, Watches, Shoe Repair, Storage. Also remember to return any loaned items (Library Books, Movie Rentals, Borrowed Items, etc.)
What is your new address?
Always make sure to keep your new address on you at all times during the move. This important information will be needed when forwarding mail, credit card bills and other important business contacts, as well as confirming with the driver. You may also want to post it where the kids have access to it so that they can also give it to their friends.
Cleaning Products
Cleaning products should not be moved. Remember to leave out cleaning products in order to clean out the house before leaving for good. Many people also make arrangements in advance for this service to be done for them. You may want to arrange for this to be done in your new home prior to your move as well.
Plants & Pets
First Class Van Lines cannot transport your plants and/or pets. Remember to make travel plans for them as well.
Garage Opener
Sometimes people will forget to leave the electric garage door opener. Remember to leave the clicker for the new residences.
New Banking Account
It is wise to open a checking account in your new town at least one month before. You may need access to funds immediately; keep in mind a lot of banks will not cash out of town checks. Remember to also retrieve your important documents from your safe deposit box.
Spare Keys
Remember to collect all of your spare keys. Whether it means retrieving keys from your neighbors or from under the mat at to the front door, don not forget to gather all sets before you depart. Also, remember to make extra spare keys for your new home a couple of weeks in advance.